ST BRITIUS CHURCHYARD
The churchyard around the church is closed known details can be found here. The churchyard extension across
Station Road is where are burials and burials of ashes takes place.
The churchyard memorials were mapped in 2017 and it can be divided into six sectors
(North West, North, North East, South West and South East)
with a sixth area (South) designated as our cremation area. Each sector is being
redrawn. The North Sector and the North East Sector have the more recent burial plots.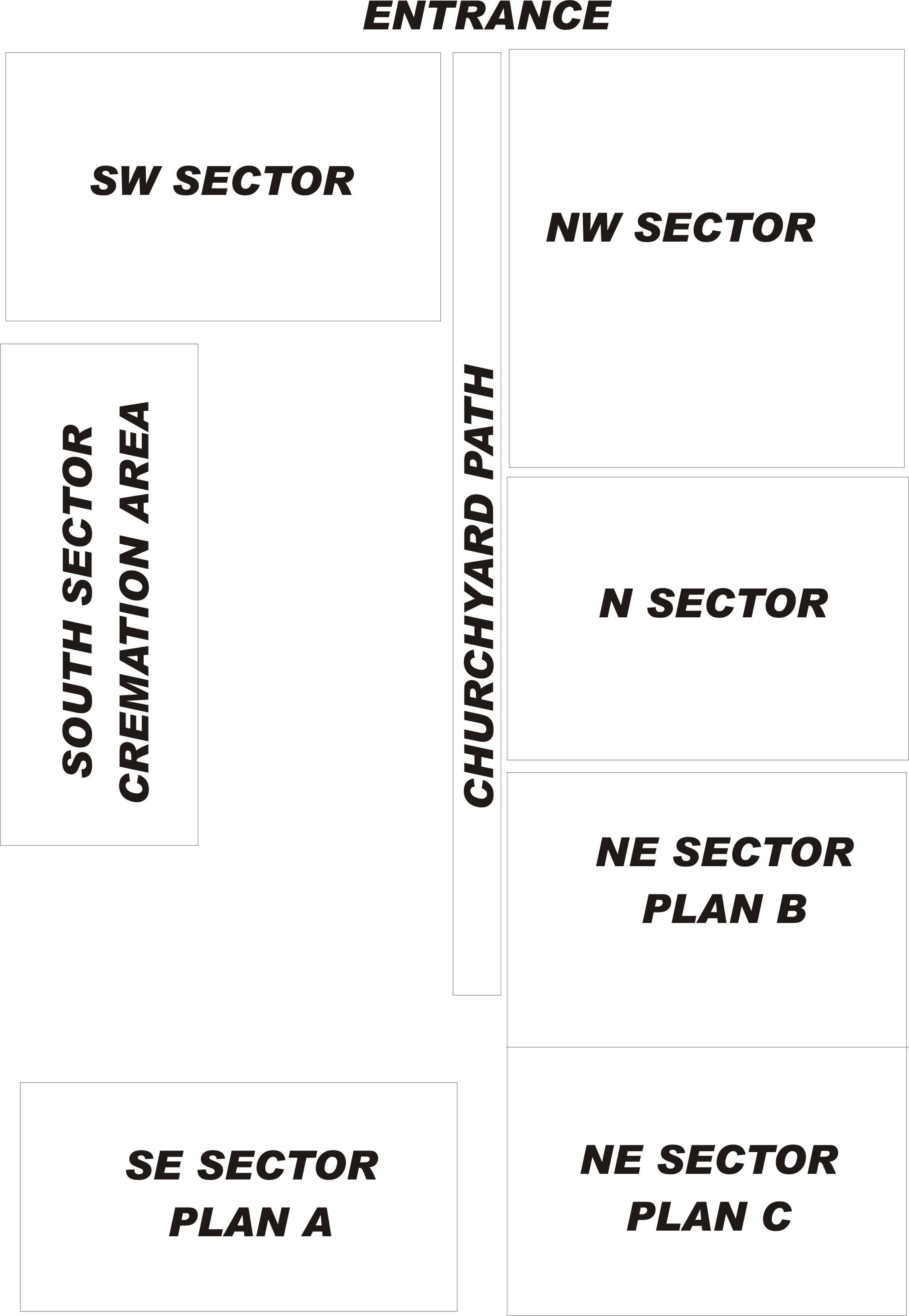 We are indebted to Wendy Morgan for her painstaking work to record the inscriptions on each plot.
There are 3 indexes available:
Alphabetical Name Index (Burials & Ashes Combined)

Index by Plot Number (Burial Plots)
Use the alphabetical index to locate known individuals clicking one the link to
go to the hand drawn maps of the grave plots. The row number will help.
Double clicking on the map will give an enlarged chart.
The indexes by plot enables a known plot to be located. Burial of ashes following a cremation
will most likely be in the cremation area but in the past, and sometimes more recently, ashes
are buried on the grave plots and are therefore found in the index of burial plots.
Be aware that not all in our burial registers (see below) have been matched with grave plots.
Unnamed plots are shown on the maps. Essentially the maps show only grave plots that
match the burial register and which have identifiable grave markers.
There are some incomplete records of graves in the original graveyard around the church, only one
person is remembered more recently through the award of a special licence, namely Aisla Walwyn whose ashes
are buried near the cottage opposite the church door. Further information will be added in due course.
We are planning to accurately measure the churchyard extension and create digital maps.
The plot numbers cannot be changed since these are linked to the formal burial register held in
church.
St Britius Church Burial Registers
There are three registers. The first is from 1568 to 1877 consisting of a transcript of the original registers and sits
an transcript of the marriages and baptisms for the same perion. The second is a transcript of the original
register for 1877 through 1993 undertaken by Mrs Wendy Morgan (the original register is lodged in
the county archive. The third and latest is the current register in church dating from 1993.